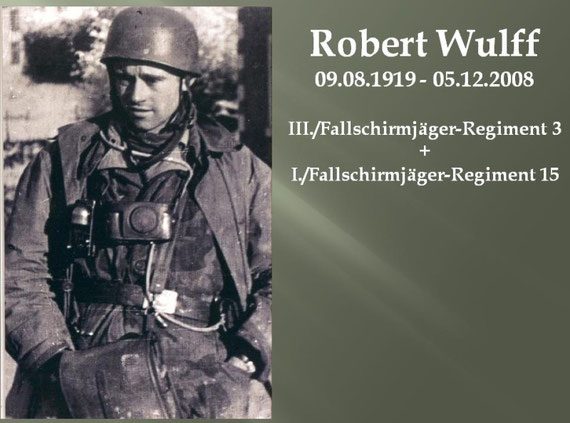 Robert Wulff, born on August 9,  1919 in Oberlarg (today's Alsace) became a German Paratrooper with the age of 21 while attending the Jump school in Wittstock / Pomerania (Fallschirmschule II, Commander Major Primus). After 6 jumps he passed the airborne school and was now a "Green Devil". He was a member of the III./Fallschirmjäger-Rgt. 3 since this unit was born in August 1940, and at the end of the war in the I./ Fallschirmjäger-Rgt. 15. He saw action in combat missions in Russia, Italy as well as on the Western Front. He distinguished himself several times and got the Iron Cross 1st Class as well as the Close combat clasp in silver. Robert was repeatedly wounded. He became a US POW on May 2, 1945 and was taken over the Elbe river by British ferry boats and prevented himself from Soviet captivity. After the POW camp in Luneburg, Wulff was taken to the camp of Munster, where he stayed until he was released in July 1945. On August 13, 1945, the highly decorated Paratrooper was home again in Ulm.
Photos above from left to right:
Award document for the Jump badge / Award doc for the Iron Cross 2nd class for actions on the Newa-River front on October 17, 1943 / Award doc for the Iron Cross 1st class for action on Sicily / Award doc for the Ground Assault Badge of the Luftwaffe for action on Sicily.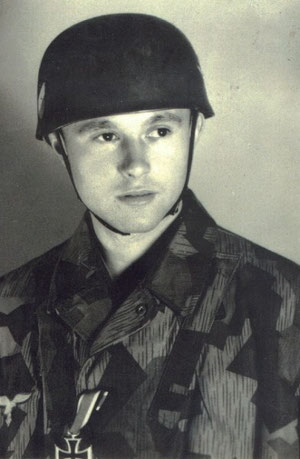 Robert Wulff after his EK2 award ceremony for bravery during a counter attack in Russia. Wulff was a dispatch rider and after he took an important message to the 10th Company he was involved in a counter attack. For this action he was awarded the EK2, on March 5, 1942.
In Memory of my friend Robert Wulff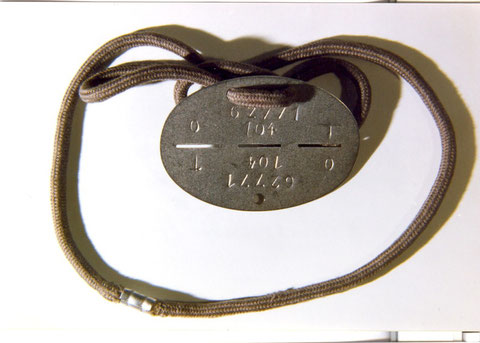 Robert fought in Russia, Sicily, Monte Cassino, Normandy, the Battle of the Bulge and in the end in the Harz. Lest we forget!